Oaklands College

The client has a large sports hall regularly used for sports events. A decision was taken to further increase the useability of the Hall for alternative events which required the 'dressing' of the main hall with curtains which could be retracted and stored in bags during sports events but could be easily brought into use for other types of events.
Abacus Technical Services were commissioned to design and install a tracking layout which would allow for pedestrian and disabled access at the entry/access points of the hall but also create a 'fluid' appearance to the curtains, by means of curved track sections when deployed, together with a means of storing the curtain in wall mounted bags to prevent any trip areas during sports events.

The overall result is a pleasing backdrop utilising an Edmund Ball Accolade Smoke colour flameproof fabric together with Doughty Sixtrack. All suspended from combinations of rods/chains and tensioned wire from the main girder structure some 10 metres high.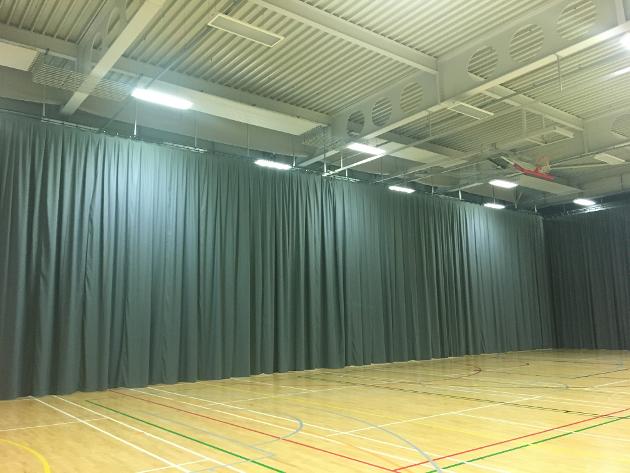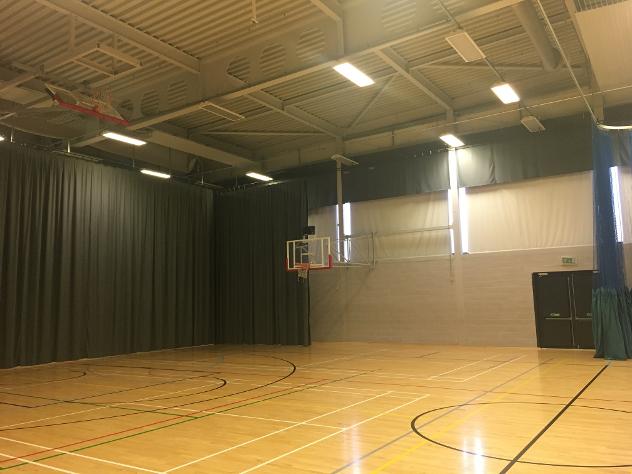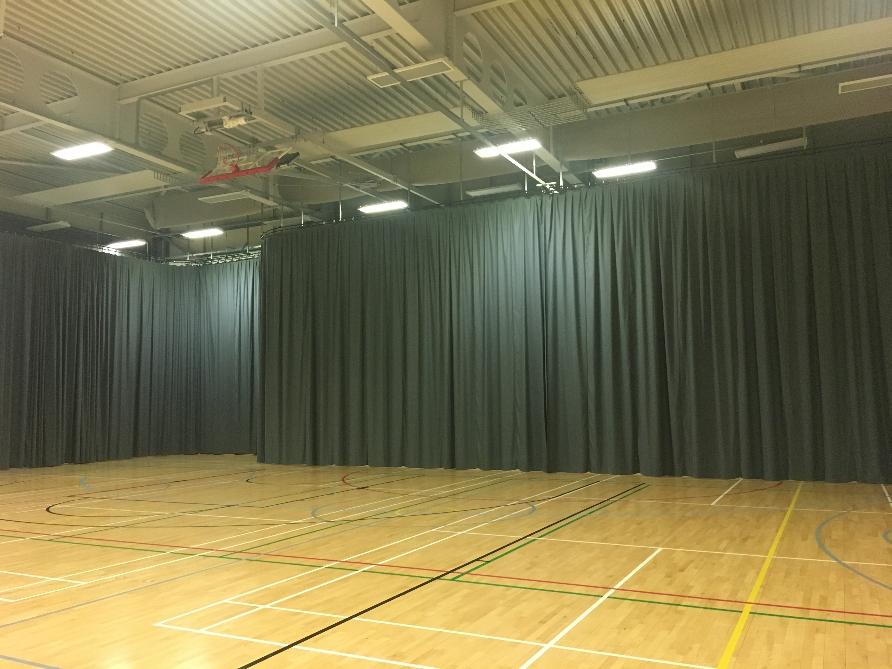 London Rocket Theatre
Originally built in 1896 the Great Hall was part of the Northern University and a famous landmark on Holloway Road.
It fell into disrepair back in the 1960's and required a major program of refurbishment . The delicately formed plaster ceiling panels were carefully removed where it was deemed necessary and recreated to match the Victorian handwork. The whole Hall was then redecorated in a more contemporary style which meant removing original but faded and crumbling gold leaf detailing.
New Stage Curtains and Mid and Rear Curtains were manufactured by Abacus Technical Services and our engineers installed . The huge one piece stage pelmet formed to follow the contours of the plaster proscenium proved quite challenging to install but nevertheless looks stunning in the grey colouring chosen.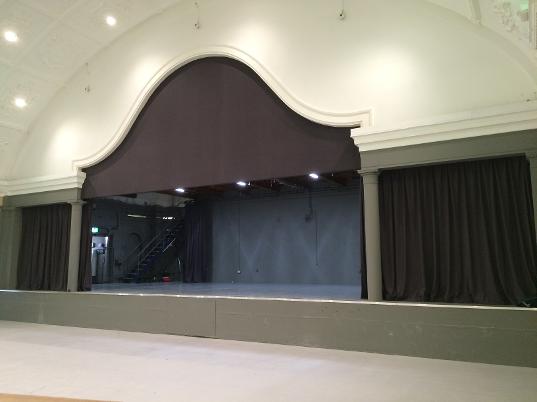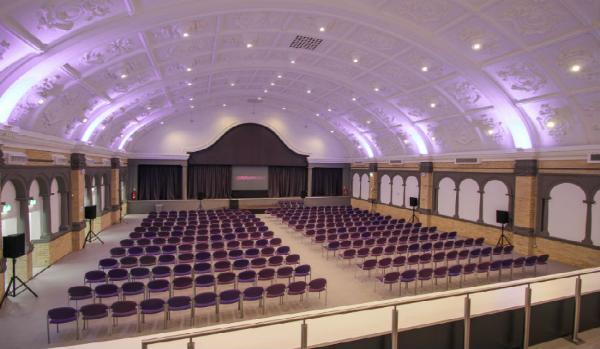 Calverton Hall
New build Village Hall where the client required a full stage installation of rear drapes, mid stage drapes , stage legs and Front of House. All manufactured by us and installed by our engineers.
In addition to this a comprehensive LED lighting system controlled by Zero88 dmx lighting control desk was installed along with a Wharfedale audio system.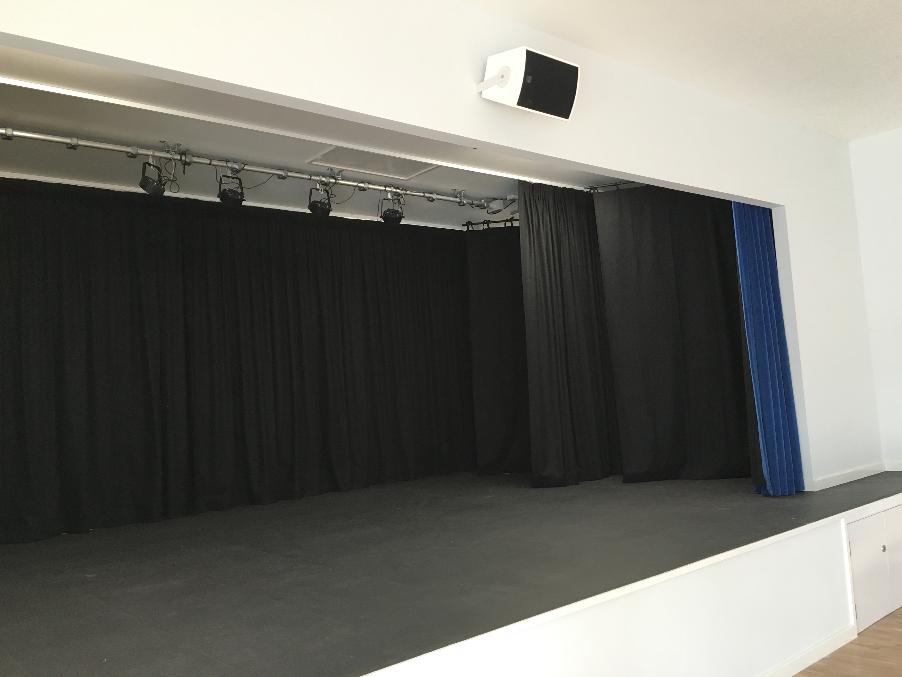 Cressett Theatre
Our qualified ( IPAF/CSCS) engineers have the capability to project manage and organise large scale installs in partnership with other manufacturers. We undertook to attend site meetings to establish curtain making requirement, then we procure all the tracks/fittings/access equipment. Then at the designated time we will turn up and carry out all the installation.

On this occasion we removed all the old stage and perimeter caurtains at this large theatre, recommissioned all the tracks, which required levelling off sections of T60 and T70 track, installing additional hangers and bracketing, cleaning and lubricating the hundreds of track runners. Due to the busy schedule operated by this arena the work had to be programmed months ahead of time to give a window of 5 days during which time all work had to be completed. This was achieved and the client is completely satisfied with the total transformation.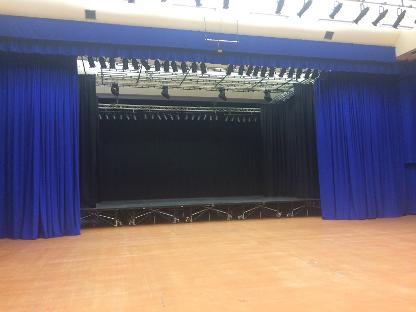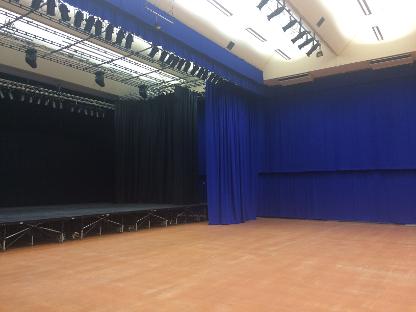 Genome Campus, Cambridge
A prestigious refurbishment of existing facilities was being carried out by RG Carter of Cambridge. Abacus Technical Services was commissioned to install some very large ceiling mounted Silentgliss remote control blinds utilising a light grey screen fabric and suspended in such a manner so as to form a partition when the auditorium is being used for either small or large presentations. Critical to the blinds installation was a means of establishing a solid fixing from the primary roof structure as the large curved ceiling was a cosmetic installation built some 30 years ago and capable of supporting just its own weight. Consultation with RG Carter engineers resulted in a series of large timber inserts being cut into the ceiling and pelmets constructed to conceal the blinds.
Along with this workAbacus Technical Services installed some remote control curtain tracks and fitted new blackout curtains in Baumann fabric. Programming of the wireless control systems allow independent or group control of the blinds and curtains.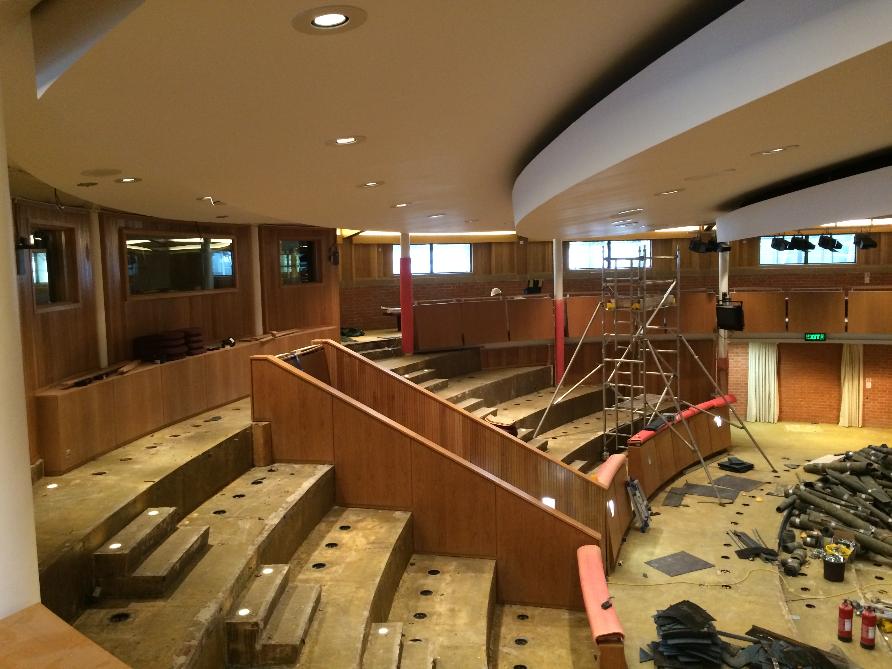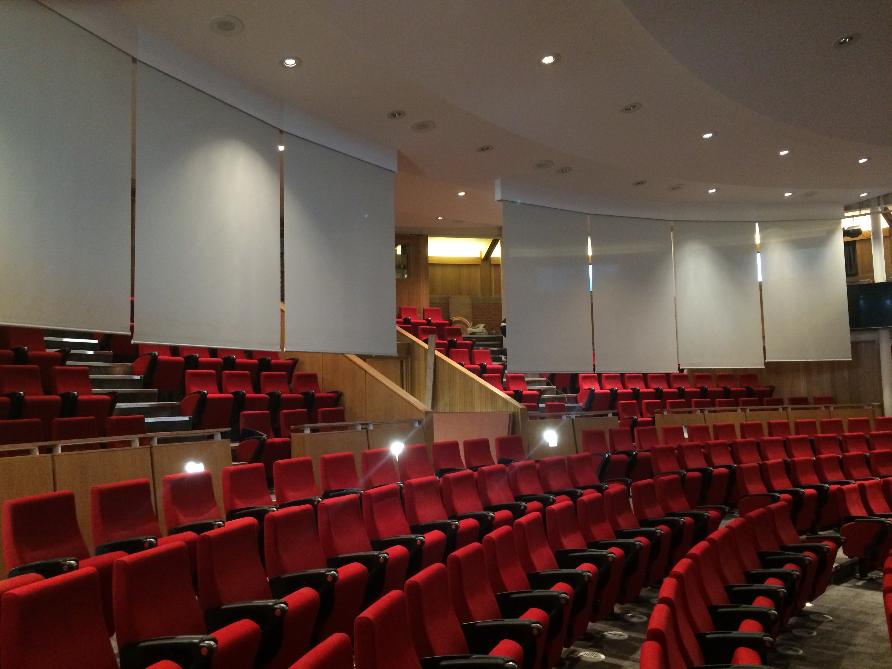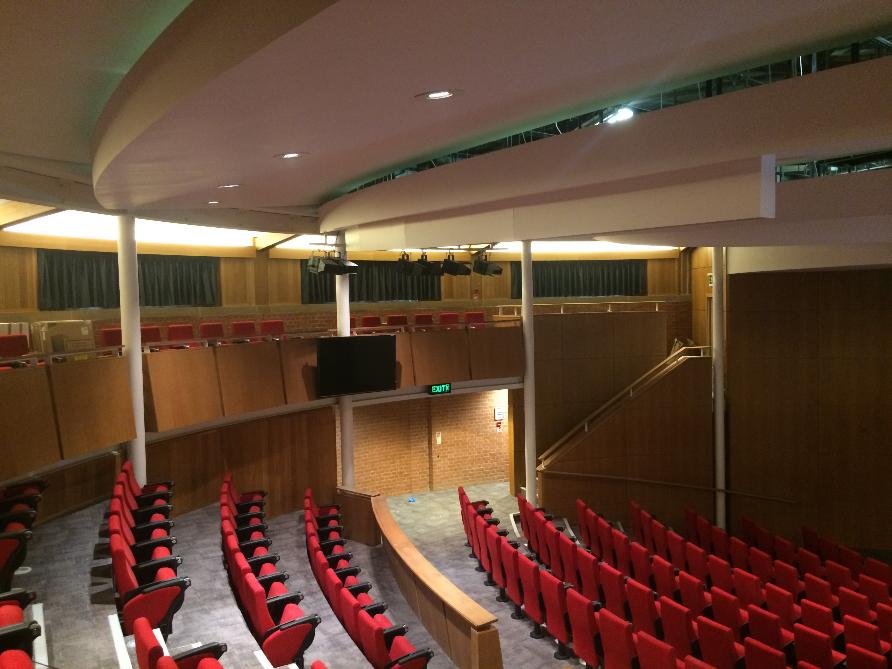 Manufacturer:Abacus Technical Services

Merchant Taylor School, Northwood
One of Britain's oldest and best known independent schools was undergoing a major refurbishment to their Grand Hall following a decision to increase the seating capacity and provide audio visual and presentation capabilities along with renewed drapery throughout. The whole concrete structure of the stage was to be moved back several metres and would then require a new installation of Halls Stage electrically controlled track wired in to a dmx control system.
Abacus Technical Services was initially contacted with a view to obtaining suitable curtain materials, bullion fringes and nominate suppliers capable of reproducing the magnificent curtains and pelmetry and also to advise on restoring the ancient School Crest, so lovingly hand stitched , appliqued, embroidered and bound almost 80 years ago. After many months of research to find just the right company to sympathetically restore the original, a decision was taken to award the job to The Textile Restoration Company who painstakingly cleaned, repaired and applied a protective gauze to ensure the delicate hand woven silks would not deteriorate further. Suitable curtain materials were sampled and coloured to specification before J D McDougall were commissioned to carry out the manufacture. Weymms Houles were commissioned to manufacture the matching coloured flat braids and large bullion fringes required.
Abacus Technical Services carried out the project management and installation of the whole job.
This was manufacturing and installation on a grand scale and the finished result looks every bit as impressive as was that first installation over half a century ago.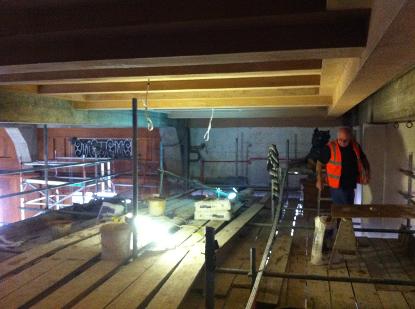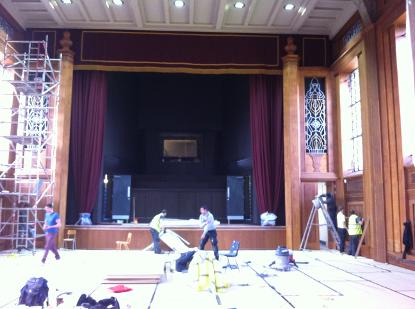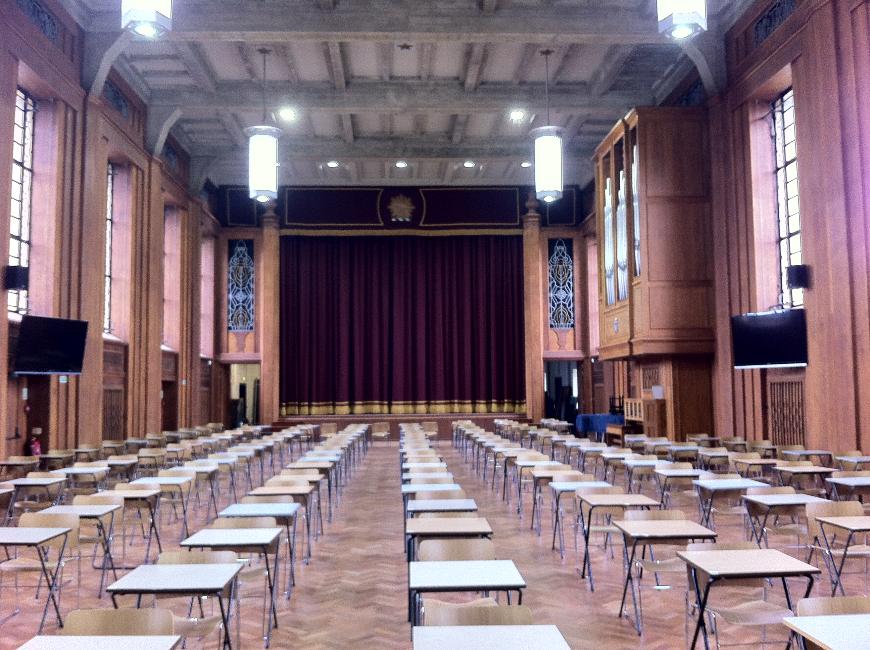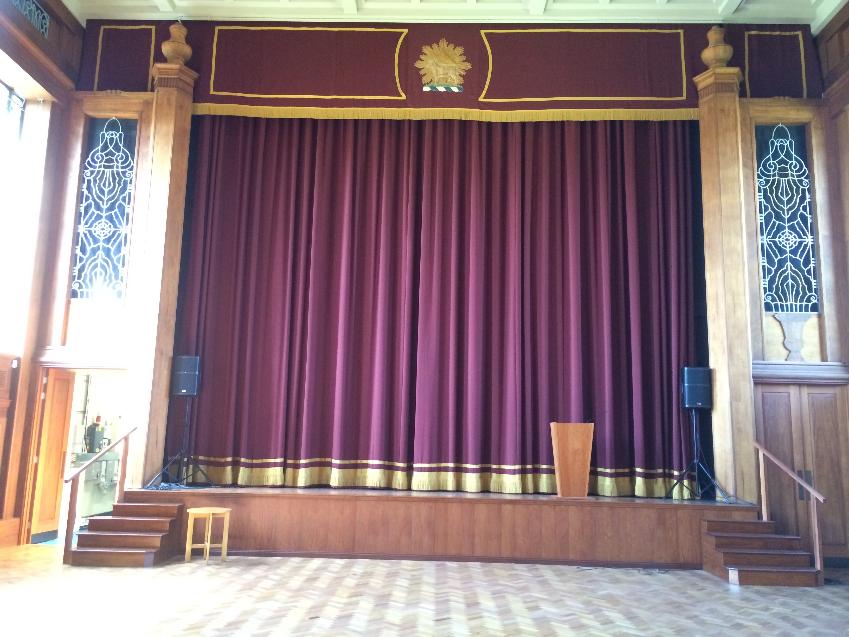 Manufacturer : Abacus Technical Services

Manuden Village Hall, Manuden
T

he client was building a brand new Village Hall within a new development of houses in the Essex village of Manuden. The brief was to create a near complete blackout situation for

the occasions when film shows and performances were being shown. The main stage was to be adequately curtained for theatre productions and the windows given fully blackout cassette blinds along with semi - blackout pleated blinds on the shaped windows. Curtains were manufactured with blackout linings where necessary, cassetted blinds were supplied by Decora Blinds and the shaped pleateds by specialist Skylite Blinds. Stage curtains were made from Dimalan fabric with on - stage drapery in black wool serge.
Abacus Technical Services also provided the lighting bars and a specification for audio and dmx lighting control.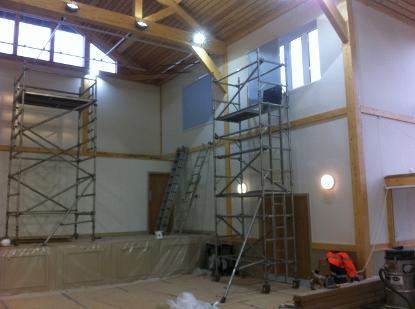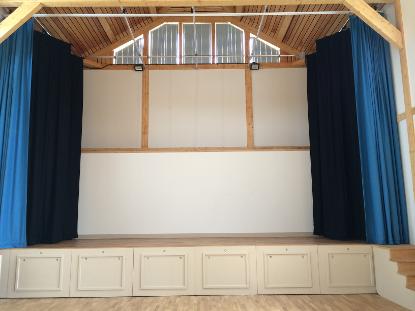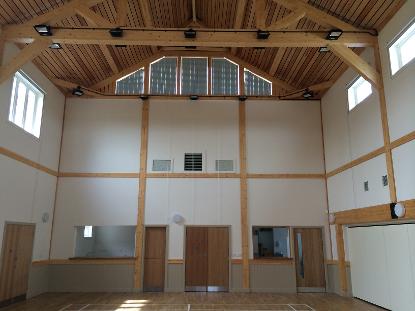 Manufacturer: Abacus Technical Services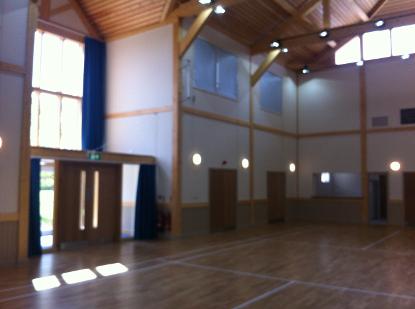 Blackfen School for Girls, Sidcup
The school had recently extended and modernised an older Gymnasium to create a fresh, new Drama and Theatrical Production area.

Abacus Technical Services were commissioned to advise on and install some lighting onto existing truss which had been fitted at construction stage, together with a full set of Stage Curtains. A tri - colour LED starcloth was supplied by us and fitted at the back of the Stage area and integrated into the school's own computer controlled dmx setup. We used Halls T60 track to carry the draw curtains then used the leg swivels to also run on T60. The idea being that when not being used the legs together with all curtains can be drawn away to leave a large area for other purposes.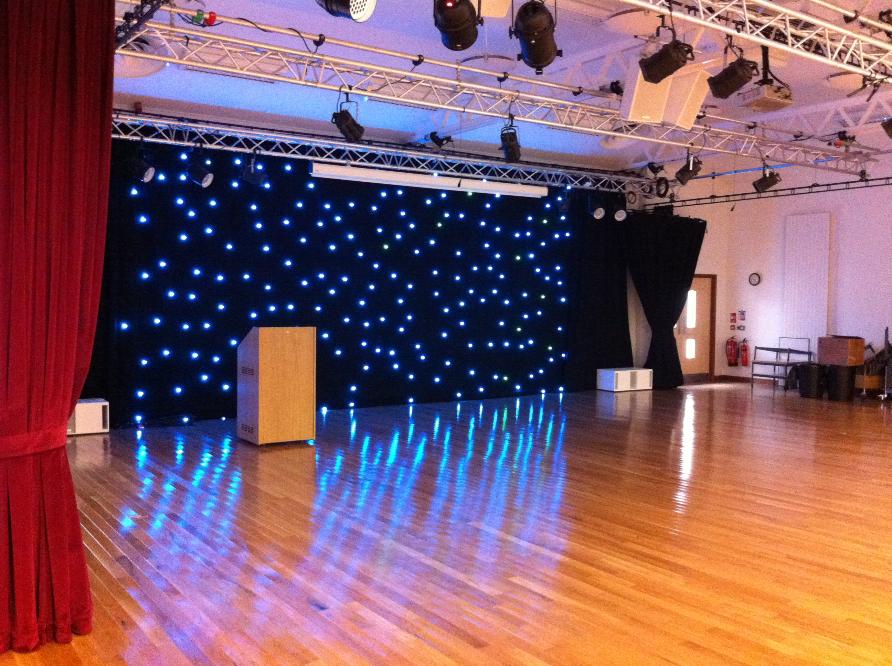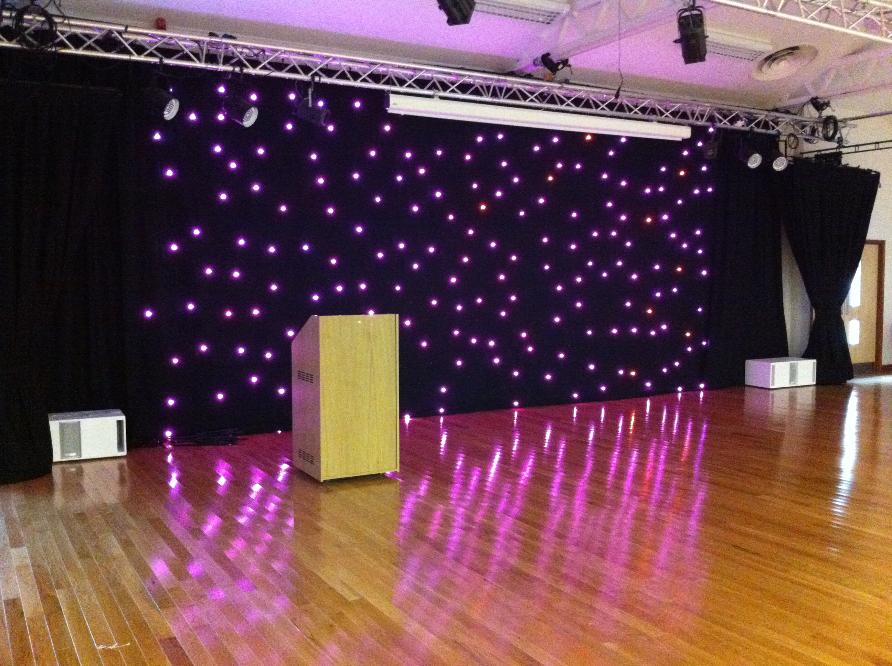 ManufacturerAbacus Technical Services

St Andrew's Church, Streatham
Having successfully acquired funding to renovate a church hall ,suppliers were appointed by the committee to carry out some updating. This involved removal of ceilings and old wiring followed by refitting of a new lighting scheme to suit the various uses the Hall would be put to. Abacus Technical Services were appointed to advise on the type and design of lighting and then to carry out installation of new Stage Curtains and Hall Curtains. Suitable materials were specified along with blackout linings on the Hall windows. This ensured a lightproof environment when films and other audio visual events were being projected.
The customer has now commissioned Abacus Technical Services to install curtains in other areas of the building.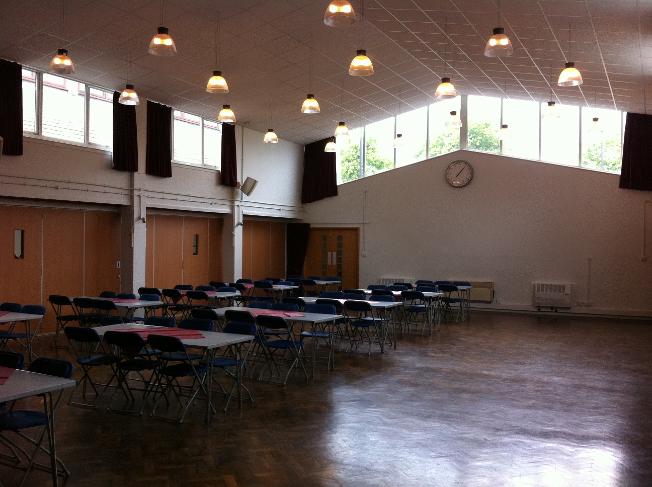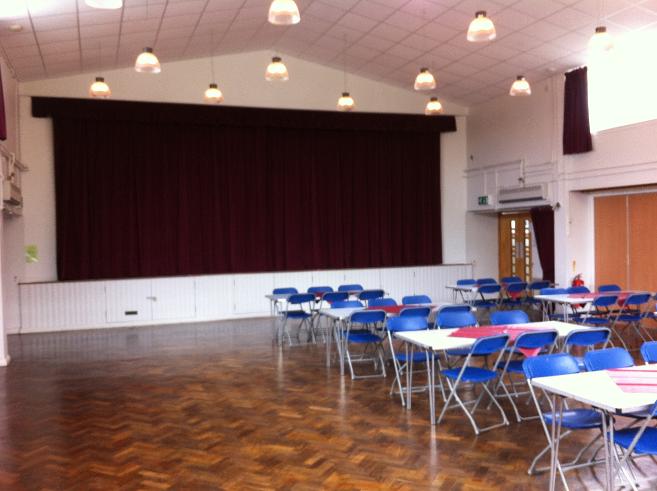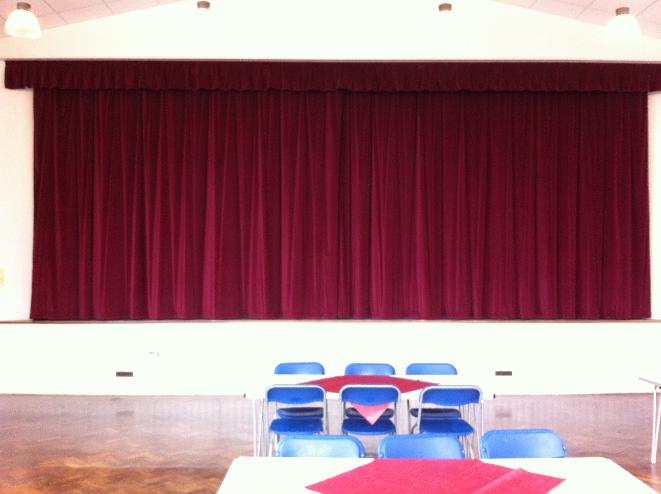 Manufacturer:ABacus Technical Services

Shrivenham Military College
A large Hall within the Museum centre, which contained displays of tanks and military vehicles, needed a large curtain to split the room in half.
Working to strict deadlines, and even stricter supervision, Abacus Technical Services supplied and installed Halls T70 utilising drop rods into the main structural ceiling. A large black wool serge curtain was installed. The main benefit of the very heavy dense material is that it produces an acoustic barrier between the 2 rooms. This was precisely what the College wished to achieve.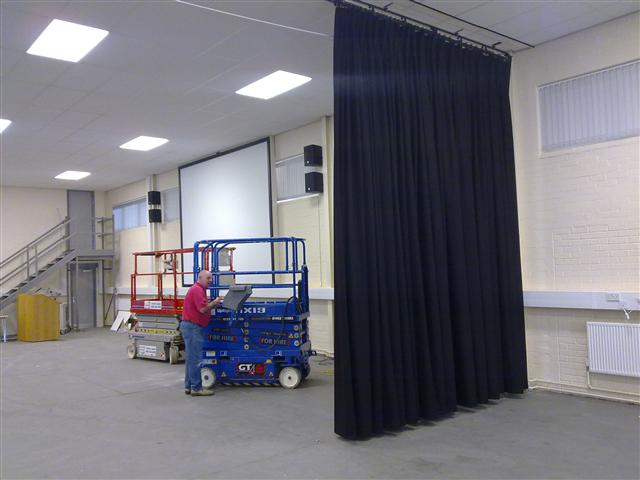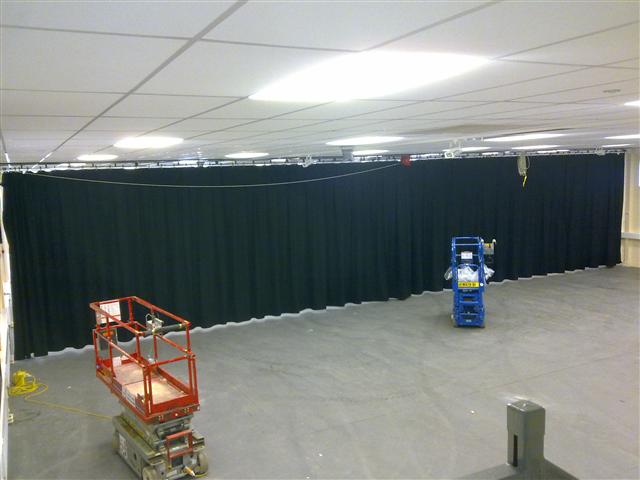 Manufacturer: Abacus Technical Services

Ripley Court School
Quite a challenging project at this private school for girls in the Surrey countryside. they had a Gymnasium which was almost unused as new facilities had been built but the requirement was for a Drama Studio and occasional Theatre.
There was precious little to support the weight of tracks and due to the height conventional support was not practicable. Added to which the school wanted all the curtains to be hauled upwards when not in use. Quite challenging!
However we conceived a system of pulleys and bars so that the staff could lower the tracking down to the required level then either leave curtains on and pull them into the roof space - or take off and store the curtains and pull the poles up.
It worked very well and satisfied their needs admirably.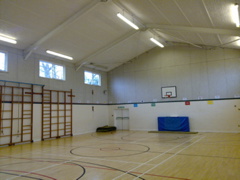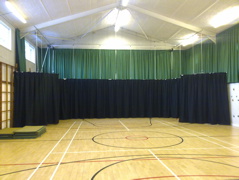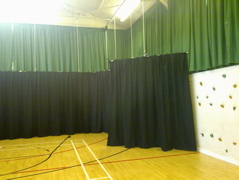 Manufacturer: Abacus Technical Services

Knowlsey Town Hall
The town council were in the process of refurbishing the splendid building, first constructed back in 1896 for the princely sum of £4000.
Much work was needed both externally and internally to the decor and structure; particularly to the Victorian chandeliers and very old Stage Curtains.
Abacus Technical Services were commissioned to reproduce the design of the original curtains and used a modern flameproofed velvet velour fabric with a specially commissioned braid to trim around the curtains and pelmets. A new Halls T60 corded curtain track was supplied and fitted.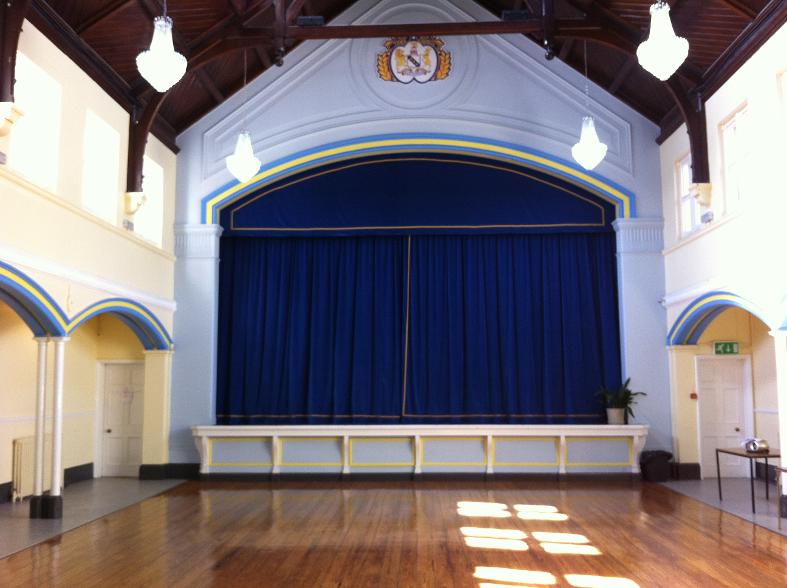 Manufacturer: Abacus Technical Services

Darwen Academy
The school wished to create a functional and distinct space within a very large entrance auditorium - for Assemblies, Stage Productions and Audio Visual presentations. The space was alongside a huge entrance Hall, and the staircases which led to the Classrooms and Offices ran right alongside what needed to be an enclosed, partially sound proofed area.
Abacus Technical Services were commissioned to install acoustic curtains around the seating area so that activities could carry on night or day without the need to divert pedestrian traffic through other parts of the buildings. Also once installed, the curtains would allow audio visual and theatrical presentations to carry on in a semi darkened, acoustically damped arena. The installation required heavy duty Halls Curtain T60 Tracks to be fixed into concrete ceilings following the line of the glazed stairwell. Heavy kiloserge fabric was used as it is routinely specified for its excellent acoustic qualities. The contract was carried out during a school holiday period and was completed on time and within budget.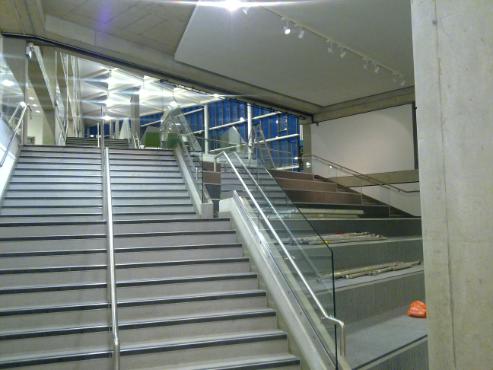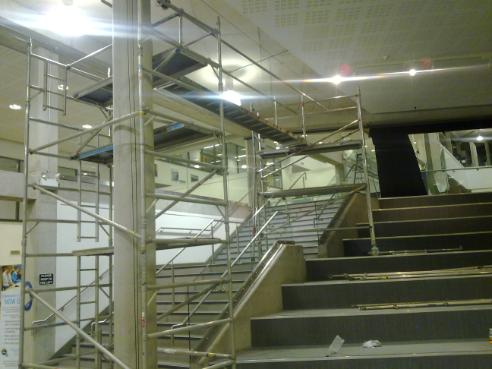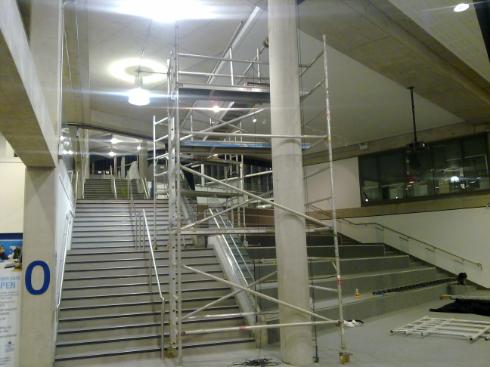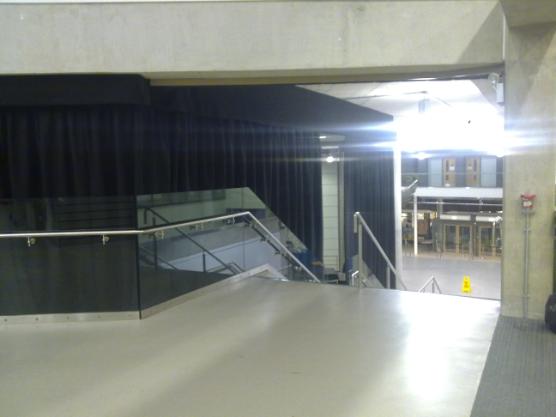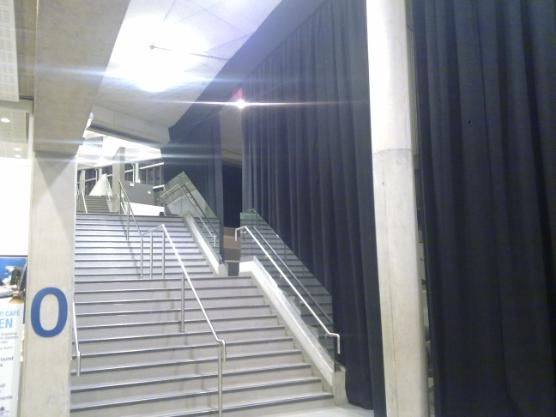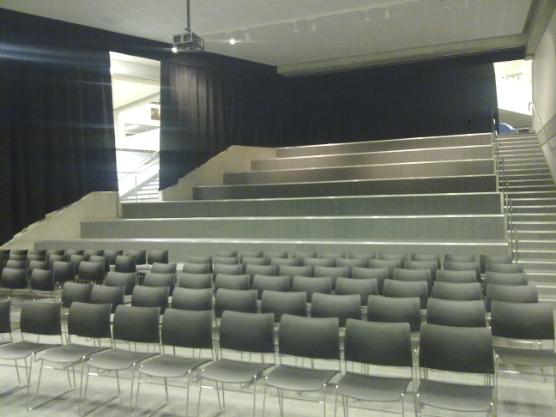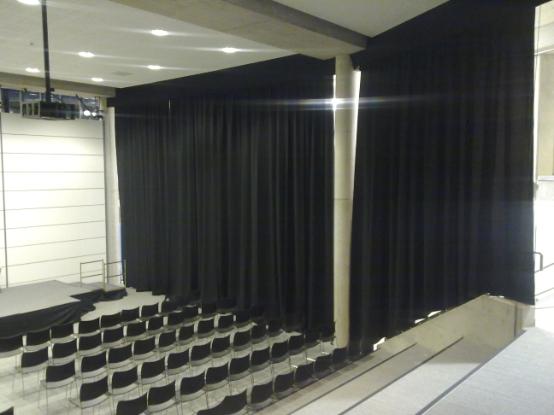 Manufacturer Abacus Technical Services

Goole High School
The school wished to convert a very large Assembly Hall into a Function Room capable of seating over 200 people and providing a blackout quality environment to enable audio visual and presentations to take place. The acoustic qualities of the room were also a consideration as with presentations taking place to over 200 people, it was important to cover as much of the reflective surfaces as possible. Hence the reason why full height perimeter curtains were specified on electric curtain tracks, operated from a podium. Also some very high windows were fitted with static curtaining, it was considered these did not have to draw back as there was sufficient light into the whole room if required.
Abacus Technical Services worked in conjunction with fabric manufacturers and curtain track suppliers to finally specify J & C Joel 's Premier Blackout material and Goelst System 6300 electric curtain tracks. Premier Blackout is capable of providing 100% blackout . The Goelst 6300 track with tandem motors is capable of supporting and moving up to 80kg of curtain weight.
Working to a very tight schedule and, with the aid of a 9 metre high capability powered cherry picker installing around and through a large existing lighting grid - the contract was supplied and finished in 7 days, just in time for the opening ceremony!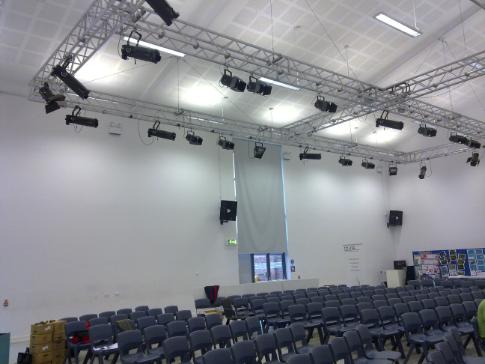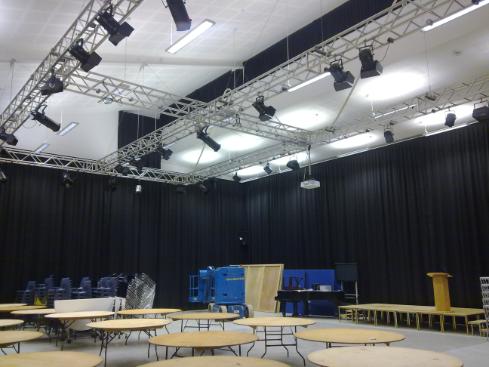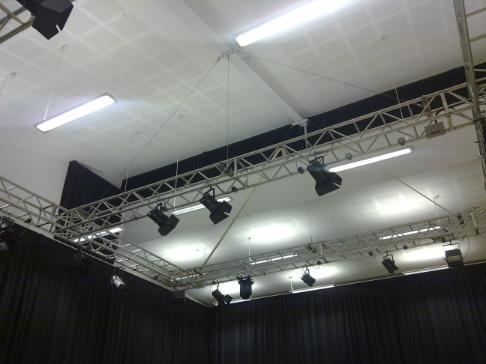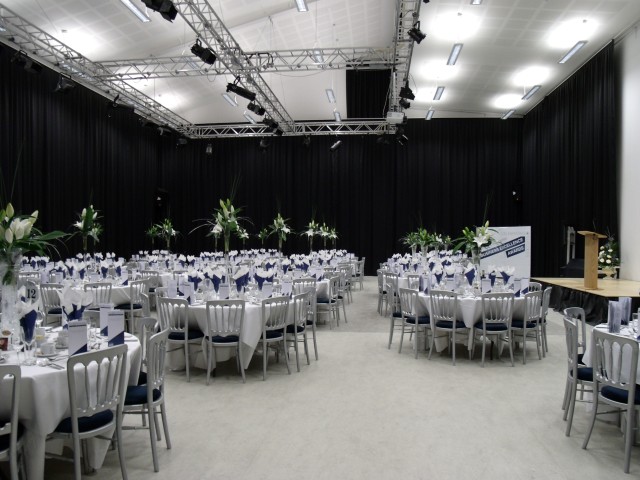 Manufacturer: Abacus Technical Services

University of Northumbria
Abacus Technical Services were appointed by Sir Robert McAlpine, who were extending and building an entire new Sports and Media Block, to remove an existing installation of over 200 metres of old curtaining and girder type curtain track from the Students Union.
We specified/supplied and installed complete new corded curtain track - supplied by Yewdale Bridge - which created a perimeter track all around the top windows of the building. Then we created a large enclosed area around an existing lighting grid by fixing three - 15 metre sections of track which when pulled would form a acoustically dead area for Live Music and Music Presentations.
All this was carried out in a 'building site' environment as there were building, electrical, air conditioning and painting contractors all requiring the same space at the same time!
We fixed to the original tubular space frame by use of special universal clamp adaptors and threaded rod. The perimeter tracks were fixed into a wood ceiling using the Mottura Soipario fixing system.
The contract was for a 7 day install time spread out over the 6 weeks of contract time. We finished on time and on budget and we have since been commissioned to carry out further works at Science Central and University of Newcastle Learning & Teaching Centre.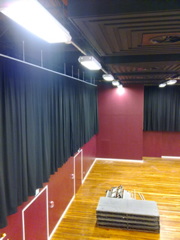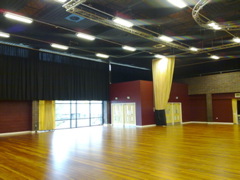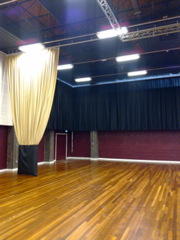 Manufacturer:Abacus Technical Services

Alec Hunter School, Braintree
The school required a complete refurbishment of their School Hall Stage, requiring Stage Curtains and legs, borders and cyclorama.
They contacted Abacus Technical Services for advice on fabrics and installation.
The choice of colours was relatively straightforward as the school colours were purple and grey. So JD McDougall Velvet Velour was selected for the Front of House whilst Lanvera Smog was selected for all the on-stage drapery.
The corded Halls Stage curtain tracks were all refurbished and new swivel mechanisms were installed for the Stage Legs.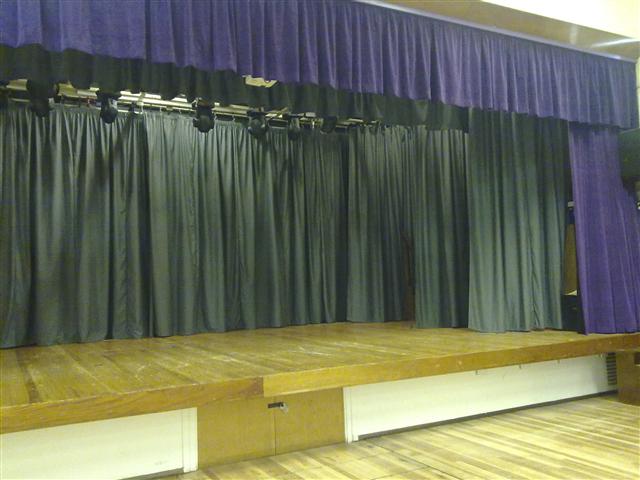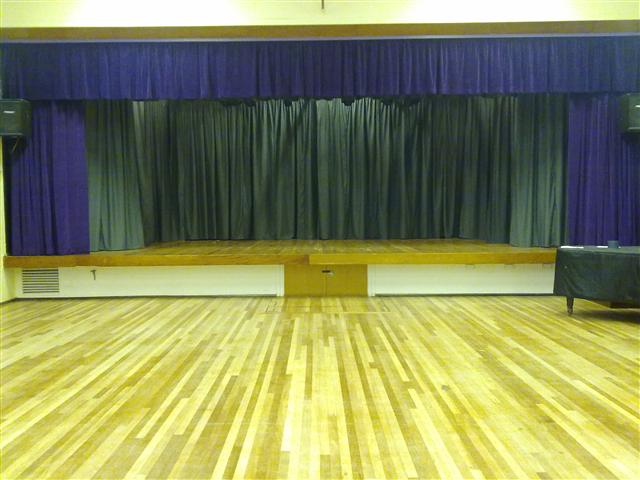 Manufacturer:Abacus Technical Services